Consulting for travel vaccination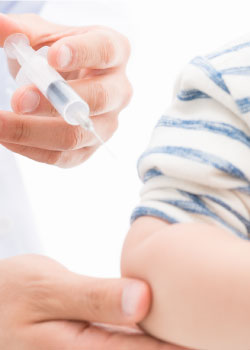 International Health Care Clinic recommends vaccination for your health. We make your schedule what vaccines and when you take. It is because you might need several kinds of vaccines depends on where and how long you go and stay, and you might take vaccine once or few times to get immunization, so it is better to make a vaccine schedule. Also, you might take vaccines for 1 month or more, so please come see a doctor as soon as you make plan to go abroad. For studying abroad, please make sure what vaccines you are required from school. Furthermore, we provide many vaccines which you can check in vaccine list, but we do not provide vaccine of yellow fever.
If you would like to see a doctor, please make an appointment from our website or by email, yoyaku@ihc-clinic.jp or call, 03-3501-1330. All our staffs speak English, so please do not hesitate to call us. If you have any question, please feel free to ask us. There is a table that issued from Ministry of Health, Labour, and Welfare Japan. Please check the table.
Chart of requirement vaccine by area
◎Strongly Recommended
○Recommended by area
note)Yellow fever Vaccine is provided limited medical facilities.
Region
Term
Vaccine
Hepatitis

A

Hepatitis

B

Rabies
Tetanus
Japanese

Encephalitis

Typhoid
Measles
Meningococcus
Polio
Yellow
Fever
East Asia
Short
○
◎
Long
◎
○
○
◎
○
△
◎
Southeast Asia
Short
○
◎
Long
◎
○
○
◎
○
◎
South Asia
Short
○
◎
Long
◎
○
○
◎
○
◎
○
Middle East
Short
○
◎
Long
◎
○
○
◎
◎
○
Pacific Region
Short
○
◎
Long
○
○
○
◎
◎
Occeania
Short
◎
Long
◎
◎
North Africa
Short
○
◎
Long
◎
○
○
◎
◎
○
Central Africa
Short
○
◎
◎
Long
◎
○
○
◎
◎
○
◎
South Africa
Short
○
◎
Long
◎
○
○
◎
◎
○
North/West
Europe
Short
◎
Long
○
◎
◎
East Europe
Short
◎
Long
○
○
○
◎
○
South Europe
Short
◎
Long
○
○
○
◎
Russia
Short
◎
Long
○
○
○
◎
North America
Short
◎
Long
○
◎
North America
Short
○
◎
◎
Long
◎
○
○
◎
◎
Offering Vaccine
●

Offering Vaccine

●

Hepatitis A and B Vaccine (Imported)

●

Hepatitis B Vaccine (Made in Japan)

●

Rabies A Vaccine (Imported・Made in Japan)

●

Typhoid A Vaccine (Imported)

●

Combined Diphtheria-Tetanus-acellular Pertussis(dTpa)Vaccine (Imported)

●

Meningococcal Vaccine (Made in Japan)

●

Tetanus Vaccine (Made in Japan)

●

Diphtheria Vaccine (Made in Japan)

●

Diphtheria-tetanus Vaccine (Made in Japan)

●

Measles Vaccine (Made in Japan)

●

Rubella Vaccine (Made in Japan)

●

Polio Vaccine (Made in Japan)

●

Japanese Encephalitis Vaccine (Made in Japan)

●

Combined Diphtheria-Tetanus-acellular Pertussis-Polio Vaccine (Made in Japan)

●

Mumps Vaccine (Made in Japan)

●

Influenza Vaccine (Made in Japan)