General Medicine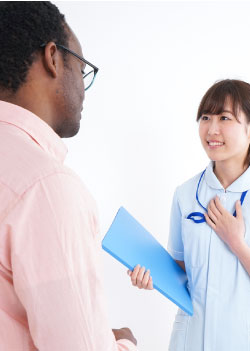 International Health Care Clinic believes that everyone has the right to receive quality healthcare.
When you suppose health is important or have health concerns, we strive to provide closely, gracious and precise services. You can see an experienced, caring general practitioner (GP) with quality healthcare at International Health Care Clinic.
We are welcome to see VEGANs and VEGETARIANs for Checking nutrition condition.
Additionally, many patients from oversea visit us, and we provide GP services to international patients who are traveling abroad.
We can help you and your family, who is adult or 2 yrs. and older, with
●Blood test
●Urinalysis
●X-ray
●Electrocardiogram
◆Health checkup
We help anyone keep in the best of health. It is good way to keep your general health in check, regardless of your age, and health check up is good indicator of identifying any risk factors for a health problem which might occur in the future.
We provide:
** General health checkup such as height, body weight, blood pressure, and so on
** Blood test for liver and kidney function, anemia, diabetes, hyperlipidemia, and so on
** Urinalysis
** Chest X-ray
** Electrocardiogram
** STI screening for HIV, Syphilis, Chlamydia, Gonorrhea, HSV
** Risk-maker test; LOX-index, Mir test for breast cancer, MCI test, ApoE genetic test,
and so on.