Vaccination for travel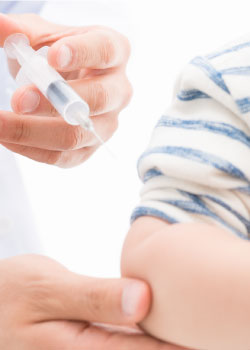 International Health Care Clinic strongly recommend vaccination for your travel.
When you make a plan of overseas travel, please consider vaccination. It might be good for visiting some areas or countries because you might get infection such as typhoid, Hepatitis A, Rabies, and so on there.
When you think vaccination before your overseas trip, please contact us as soon as possible, because vaccination might take time. Also, please make sure what vaccines you are required for studying abroad.
We have many kinds of vaccines including imports, so please check the vaccines list. However, we do not provide vaccine of yellow fever. You can take in yellow fever vaccination centers.
You may know below,
●Yellow fever vaccine is recommended in some specific areas.
●Prevention pills for malaria are recommended in some areas.
Please make an appointment through our web site, or by email, yoyaku@ihc-clinic.jp,
or call, +81-3-3501-1330, in English.
If you have any questions, feel free to ask us.
Chart of requirement vaccine by area
◎Strongly Recommended
○Recommended by area
Important Notice)We do not provided Yellow Fever Vaccine.
Region
Term
Vaccine
Hepatitis

A

Hepatitis

B

Rabies
Tetanus
Japanese

Encephalitis

Measles
Rubella
Meningitis
Polio
Yellow
Fever
Varicella
Flu
North

America

Short
◎
◎
○
○
Long
○
◎
◎
○
○
Caribbean
Short
○
◎
◎
○
○
Long
○
○
△
○
◎
◎
○
○
Central

America

Short
○
◎
◎
●
○
○
Long
◎
○
△
○
◎
◎
●
○
○
South

America

Short
○
◎
◎
●
○
○
Long
◎
○
△
○
◎
◎
●
○
○
Central

Asia

Short
○
◎
◎
○
○
Long
◎
○
△
○
◎
◎
○
○
Eastern

Asia

Short
○
◎
◎
○
○
Long
◎
○
△
○
○
◎
◎
○
○
South-eastern

Asia

Short
○
◎
◎
○
○
Long
◎
○
△
○
○
◎
◎
○
○
Southern

Asia

Short
○
◎
◎
○
○
Long
◎
○
△
○
○
◎
◎
○
○
○
Western

Asia

Short
○
◎
◎
○
○
Long
◎
○
△
○
◎
◎
○
○
○
○
Australia and

New Zealand

Short
◎
◎
○
○
Long
○
◎
◎
○
○
Melanesia
Short
◎
◎
○
○
Long
○
○
△
○
◎
◎
○
○
Micronesia
Short
○
◎
◎
○
○
Long
○
○
△
○
◎
◎
○
○
Polynesia
Short
◎
◎
○
○
Long
○
○
△
○
◎
◎
○
○
Nothern

Africa

Short
○
◎
◎
▲
○
○
Long
◎
○
△
○
◎
◎
○
▲
○
○
Eastern

Africa

Short
○
◎
◎
●
○
○
Long
◎
○
△
○
◎
◎
○
○
●
○
○
Middle

Africa

Short
○
◎
◎
●
○
○
Long
◎
○
△
○
◎
◎
○
●
○
○
Western

Africa

Short
○
◎
◎
○
●
○
○
Long
◎
○
△
○
◎
◎
○
○
●
○
○
Southern

Africa

Short
○
◎
◎
○
○
Long
◎
○
△
○
◎
◎
◎
○
○
Nothern

Europe

Short
◎
◎
○
○
Long
○
◎
◎
○
○
Eastern

Europe

Short
◎
◎
○
○
Long
○
○
△
○
◎
◎
○
○
Western

Europe

Short
◎
◎
○
○
Long
○
◎
◎
○
○
Southern

Europe

Short
◎
◎
○
○
Long
○
○
△
○
◎
◎
○
○
Ministry of Health,Labour, and Welfare Japan FORTH
Available Vaccine
●

Hepatitis A Vaccine (Imported / Made in Japan)

●

Hepatitis A and B Mixed Vaccine (Imported)

●

Hepatitis B Vaccine (Made in Japan)

●

Rabies Vaccine (Imported / Made in Japan)

●

Typhoid Vaccine (Imported)

●

Combined Diphtheria-Tetanus-acellular Pertussis(dTpa)Vaccine (Imported)

●

Meningococcal Vaccine (Made in Japan)

●

Tetanus Vaccine (Made in Japan)

●

MR (Measles/Rubella)Vaccine (Made in Japan)

●

Diphtheria-tetanus Vaccine (Made in Japan)

●

Measles Vaccine (Made in Japan)

●

Rubella Vaccine (Made in Japan)

●

Polio Vaccine (Made in Japan)

●

Japanese Encephalitis Vaccine (Made in Japan)

●

Mumps Vaccine (Made in Japan)

●

Influenza Vaccine (Made in Japan)

●

HPV Vaccine (Imported / Made in Japan)

●

Chiken Pox Vaccine (Made in Japan)

●

BCG Vaccine for tuberculosis(Made in Japan)

●

Measles and Rubella Vaccine (Imported)

★

Tuberculin Skin Test / Quanti FERON as IGRA

★

Antibody Test ( Measles, Rubella, etc)