International Medical Transportation Service.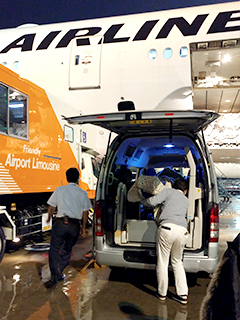 What is medical transportation?
International Medical Transportation is the transportation for patients who are sick and injured when they are traveling or working in other countries. Depending on the situation, a doctor and a nurse or a nurse travel with patients from a hospital to a hospital.
It is always better to stay in a hospital until patients is finished medical care. However, some patients want to receive medical care at their own countries for different reasons.
For example,

1.It is difficult to receive medical care because medical fee is very expensive
2.Level of medical care is good enough
3.There is difficulty of communication because of language and cultural difference
4.Because of difficulty of communication, you have questions about your medical care.
5.Stress of a family member because of cultural difference and communication difficulty, family member became stressed.
From these reasons, many people want to receive medical care at their own countries.
We support people who have these kinds of difficulty and provide International Medical Transportation for them.

If you or your family member want to go back your country and receiver medical care, please contact us by call or mail. We receive calls 24 hours 7 days a week, so you do not worry about time rag.
It is OK to ask us if you or your family member is fit to International Medical Transportation or not.
If we decide that we can provide International Medical Transportation, we could contact a medical facility in your country and arrange the schedule. English speaking doctor nurse and nurses support you and your family during the transport.
Flow of medical transportation
Contact us by mail or call

Please contact us by call or mail. Doctor and nurse response your call 24 hours and 7 days a week, so do not worry about time lag.

Do not hesitate to call us.
Collecting Patient's Information

Collecting information about a patient.

Protecting personal information is important. We collect and release information from and to hospitals after receiving permission from you or your family. If you would like to, we can contact to the hospital directly.
Contract

Based on medical information from a hospital, we arrange the schedule, the way to transport, and prepare medical equipment.

Then we show you the estimate cost of medical transportation.

If you agree with it, we ask you to sign the contract and agreement. After receiving the contract and agreement with your signature, we start preparation of medical transportation.
Arrange the schedule with Hospitals

We keep contacting with hospitals and arrange the schedule for medical transportation. We also prepare medical equipment, medicine, and medical information. We always contact with a hospital you are staying and updated your medical information for planning medical transportation.
International Medical Transportation

The doctor and nurses will visit you and the hospital for checking your condition such as medication before medical transportation.

During the International Medical Transportation, our staff take care of you and your family and transport them to the hospital where you will be received safely. We check and record your condition during the medical transportation, and we inform it to the hospital.

After finishing medical transportation, we give you medical follow up.