International Medical Transportation Service.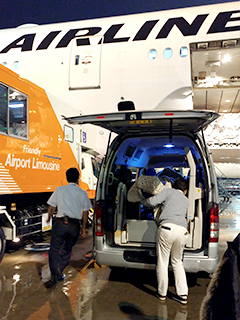 What International Medical Transportation is.
International medical transportation is the transportation that is assisted by a doctor and a nurse or by a nurse. They give you medical assistance during the transportation between countries or within a country. We also assist you from a hospital to a hospital.
If you stay in other countries for work, study, and travel and need medical care, it may be better to take medical care at a local hospital. However, some people want to take medical treatment at their own country in some reasons. For example, ①it is difficult to continue taking medical care because of medical fee, ②you think the medical care is not good enough and have difficulty of communication, ③a medical treatment becomes longer that you expected, ④you have a difficulty of trust to a local hospital or medical staff, ⑤patient's family member may have stress and have physical problem because of different environment. Because of these reasons, people want to take medical treatment at a hospital in their country and we assist them.
Please contact us by mail or call when you need help. It is fine that you just need some advices to do medical transportation or not. We receive mail and call 24 hours, so you do not need to worry about time differences.
We contact hospitals after you sign a contract. Then we make schedule for International and domestic medical transportation.
Flow of medical transportation
Contact us by either email or call

You could contact us by mail or call. A doctor or a nurse receive your call 24 hours, so you do not worry about time differences.
Collecting information about the patient

Collecting information about the patient. We need to know information about a patient such as where the patient stays, how does it happen, how about patient's recent condition, and so on. If necessary, we directly contact with the doctor. We need to ask you a permission to do this if necessary.
Contract

Based on a medical information, we make temporary plan for medical transportation.

Then we make estimate of it that is including cost of transportation, medical equipment, personnel expenses, and so on. We start make actual plan after you agree with the contract.
Contact with hospital, we arrange the schedule

We make the schedule after contacting with local hospital and hospital where receives a patient. We prepare documents and medical equipment. We keep checking previous condition about the patient.
Medical transportation

A doctor and a nurse visit local hospital and have meeting with the medical staff. We also visit a patient and explain about the medical transportation. During the medical transportation, a doctor and a nurse check paten's condition all the way to the hospital where patient moves in. We inform the patient's condition to the recipient doctor.