2023.6.8
~Medical evacuation to Vietnam~
International Medical Transportation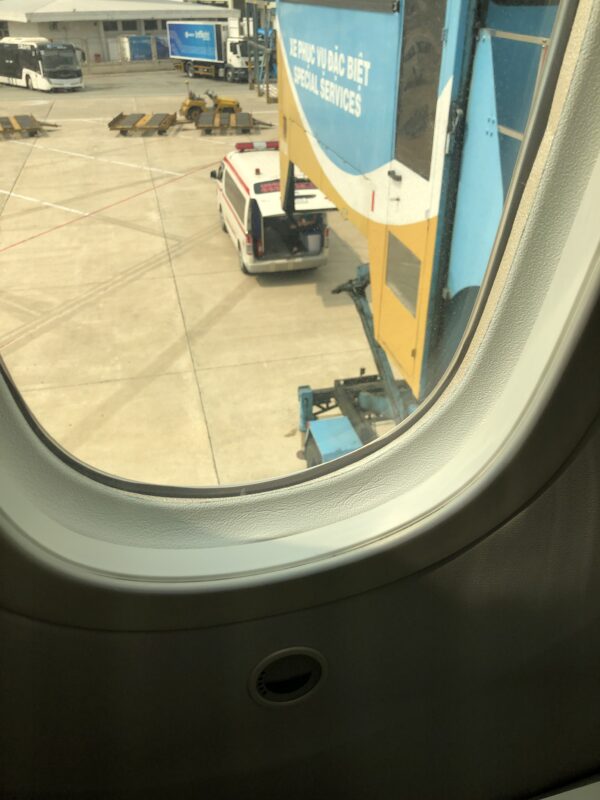 This time, we transported a patient from a hospital in Ehime Prefecture to Vietnam.
The patient had been hospitalized after becoming ill at the patient's workplace. Both the family and the company wanted the patient to be treated in Vietnam, where the patient could communicate smoothly, and we did our best to meet their wishes.
I prepared for the patient's departure by working closely with the hospital, family members, and all related organizations to ensure that the patient could return home safely and comfortably.
This time, the patient did not require oxygen or intravenous drip management, and was transported with one nurse accompanying.
I arrived in Ehime Prefecture the day before the transport and met with the patient at the hospital.
After receiving a briefing from the ward nurses, the patient's personal belongings were packed and prepared for departure.
Just before departure, the ward nurses check the latest vital signs and make a final handover.
There were no direct flights from Ehime Prefecture to the airport where the patient was to return home, so we took a private ambulance from Ehime Prefecture to Kansai International Airport, a five-hour one-way trip.
We departed in the middle of the night, so the lights were turned off and we made every effort to ensure the safety and comfort of the patient. There were some bumps along the way, but the patient seemed to be sleeping soundly.
At check-in, we changed from stretcher to reclining chair and said goodbye to the private ambulance at the airport, where we were assisted by airport staff.
While waiting in the lounge, the staff was very helpful in calling out to us and assisting us.
After boarding, we adjust our posture, prepare our medical equipment for takeoff, and observe our condition. During the flight, oxygen saturation levels are likely to fluctuate, so we carefully observed changes in suction and respiratory status as necessary.
At the end of April, the temperature in Vietnam was expected to be over 30 degrees Celsius. I prepared an ice pillow to cool the patient down in Vietnam.
After a long flight, we arrived in Vietnam safely.
Upon arrival, we boarded the local ambulance directly from the plane.
The moment the doors opened, the hot outside air entered the plane, and I made a final check of the patient's condition, documents, and luggage while adjusting the patient's body temperature with the patient's blanket and the ice pillow that I had prepared.
I handed over the patient to the doctor at the local hospital and finished the transport.
The moment the patient met family, the patient's previously tense expression eased, and we were very relieved to see that.
I had some time before our return flight, so we enjoyed Vietnamese coffee and pho at the airport before heading home!