2023.2.8
Medical Evacuation~South Asia
International Medical Transportation
The Covid-19 virus is getting settled down, we're seeing more and more travelers from overseas on the streets of Tokyo!   I have been checking airline tickets with daily fantasies of going on an overseas trip as soon as possible (but airline tickets are too expensive...;( ) 
Now, with the deregulation of Covid-19, requests for international medical evacuation have been increasing again. 
The other day, I transported a patient back to his home country who had been hospitalized after developing an illness during a trip to Japan! 
Now, many hospitals had restrictions on visits due to the Covid-19.  The patient had not been able to see his family during his stay in the hospital, so he was crying on the day of the medical evacuation because he was able to see his family for the first time in a while.
Even Japanese people are anxious and lonely when hospitalized, but to be hospitalized in a country where you don't understand the language must be extremely anxious... I was about to cry when I saw his crying because he was able to meet her family. 
The patient was transferred to the airport with the help of a private ambulance, checked in with the help of the airline company, and cleared through immigration...all the while, the patient was in a wheelchair. Then we boarded the plane for the 10hours flight. The patient was paralyzed, and spent most of his time in bed during his hospitalization, so sitting in a wheelchair and being on an airplane were very exhausting for him. He really worked hard for 12 -13 hours, including the overland trip in Japan! 
Also, the family of him who rode with me were very cooperative and helped me move the patients from their wheelchairs to their airplane seats and adjust their body positions during the flight very smoothly! Thanks to the cooperation of so many people, we were able to complete the transport without incident!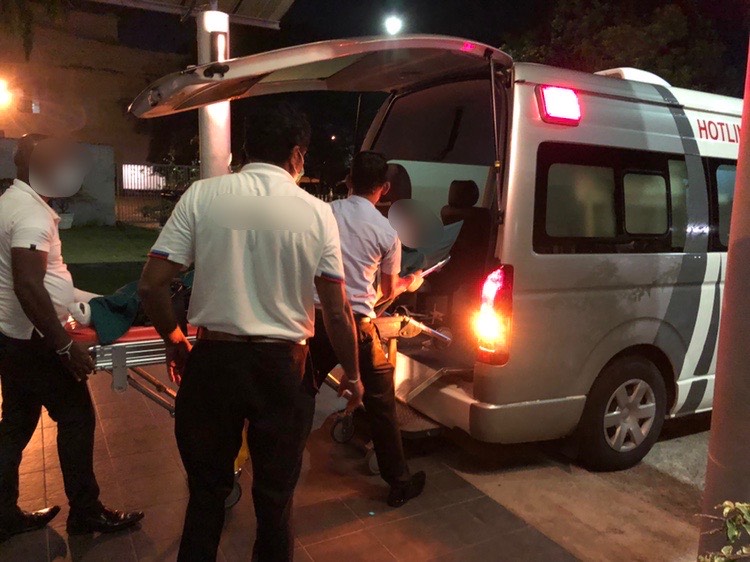 ≪Talk about short private time after medical evacuation≫
I love going to the local supermarket when I travel. I enjoy discovering things that are not sold in Japan, and I tend to spend a lot of time there. This time, too, I rushed to the supermarket and after a quick wander, I bought some tea as a souvenir! 
Authentic tea....CHAI!! I love chai!!After returning to Japan, I immediately made a chai latte at home. The tangy cinnamon flavor was sooooo good!!